DWPP(Z)The machine is used to shed hulls with plastic greenhouse, heat preservation is the hulls and covered up. 8-12 minutes up electric braking.
Operating guide
1、Every length less than 70 meters of greenhouse films, using torque is less than 2,000 (N.M) single hulls, can choose DWPP100 type reducer,and length 70-120 meters of
greenhouse films, use less than 40 (N.M) torque of single-layer hulls, can choose DWPZ140 type reducer。
2.Careless installation manual machine according to the correct installation of slope room, thin, there should be strictly, bumps, outdoor gear reducer jammed damage at a temperature of 20 degrees below freezing in the region should regulator。   
3.Notice moistureproof and safe use of motor, is prohibited in work station in slow below, in case of accidents. Use the same year should change gear grade worm gear and worm oil, oil amount to mark line for accurate oil.
Shape and size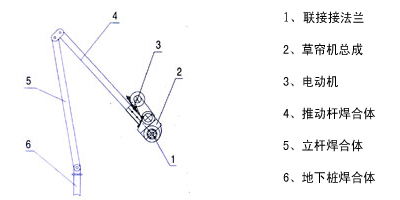 Technical parameters
| | | | | | | |
| --- | --- | --- | --- | --- | --- | --- |
| model | ratio | Careless length(M) | Output torque(N.M) | Motor model/power | Applicable scope | weight(kg) |
| DWPP100 | 1600:1 | 40-70 | 2000 | YU90L4/1.5KW | careless、insulation | 64 |
| DWPZ140 | 1320:1 | 70-120 | 4000 | YU90L6/1.1KW | careless | 135 |
Usage scenarios